Bio Page
"Riverboat John" Ferguson
Guitar/Banjo Player-Singer-Composer-Actor-Lecturer & Master Storyteller
Bio
"
Riverboat John"
Ferguson
,
grew up in
Huntsville
,
Alabama
, near the
Tennessee River
.
He received his first banjo at age 5. His mother Sarah, who played the piano, taught him numerous folk and patriotic songs as well as stories of the sea and adventure at an early age. His storytelling skills also come from his Grandfather, Sam Ferguson, Spanish American War Veteran and son of a colorful Civil War Army Sergeant. After graduation from
Huntsville
High School
, he migrated to
Greenwich Village
,
New York
,
to join the Folk Revival Movement, where he bumped elbows with the avante garde, Folk, Blues, Jazz, Pop, Gospel & Rock performers of the day.

He completed his degree from
George Washington
University
,
Washington
, D.C.;
served in the U.S. Army; traveled the world; traveled the rivers of
America
;
rode some of the last regular scheduled passenger trains; & rode on every paddlewheel boat he could find.

As a result of his roots, travels and experiences as a "seasoned" stage performer, doing festivals, fairs, historical events, performing with symphonies, lecturing at Chautauqua & other lyceum venues,

"Riverboat John" developed a style of entertainment much like that of an 1800's minstrel who comes to town to tell stories & sing songs.

His stories can best be described as "Practical-Americana" with "life-learning lessons". He plays his own style of banjo & other instruments & can belt out a tune of Folk, Old Cowboy Songs, Gospel, Dixieland, Mountain, Riverblues, Country, Old Standards, Children's Songs, Historical, Patriotic, Original, Humorous & Serious. or tell a story at the drop of a hat. He has appeared in Broadway-type musicals/plays/stage shows and many different venues. He is currently touring
North America
with the "Riverboat John" Community Concert Stage Show, highlighting his one-man-show "The Adventures of Tom Sawyer & Riverboat John",
as well as numerous educational projects with schools and universities. He is working with The Big Read Program in communities and His Imaginative
Reading
, Creative Writing & Character Education
programs have been implemented in many points throughout the
United States
. His concentration of effort currently is with urban and rural under-privileged children (and Adults) reading and literacy programs.

A true American Minstrel and Folklorist full of music, songs & stories of our beloved country and it's roots.
New York Times says "a true American Minstrel".
Chattanooga Free Press says, "Tom Sawyer & Huck Finn all wrapped up in one, a banjo on his knee and river water in his veins".
New Orleans Times Picayune says, "A real character from the riverboat days and one of the best strolling acts we have seen in awhile"!
In addition to his stage shows and roving entertainment act, "Riverboat John" is available for educational programs Pre-K through 12; Colleges & Universities, Teacher Workshops & School Parenting Programs; Adult Education; and Senior's Events.


Some Kudos' Include:
Monroe County Museum, "back to the days when a live performance was not just a visual aid;
Toledo Public Library, "told us things about our history we didn't even know";
Honeywell Performing Arts Center, "Two standing ovations, great stories, fantastic baritone voice";
Chautauqua, New York, "What a booming voice & throwback to the good old days";
Indiana University, "kept us spellbound on Super Bowl Sunday, educational & fun";
Clinton Arts Council, "Great blend of story & song";
Three Rivers College, "Two years in a row, he's great, we're having him back";
Mobile Public Libraries, "Artist-In-Residence, good crowds, content & performance";
Portsmouth Museum, "His river stories kept us excited, entertained & were educational;
Johnson City, TN. Symphony, "What a great job as guest artist in our "Christmas on the River", a booming voice";
Columbus Riverfest, "We want him every year".
Gulfshores Civic Center, Summer Concert Series, "Excellent Crowd & Kudos";
New Orleans Jazz Fest; "One of the best roving acts we've had in a long time and we loved his original material".
Thorsby, Al. High School, "Our students loved him and he was right on target with his curriculum".
Decatur, Illinois Street Festival," A natural for our largest outdoor festival in the country".;
Tall Stacks, Cincinnati; "His third time with us and ready for the next one. We like him"!
World of Nations Festival in Jacksonville, FL, "On the boat, on the grounds, in the food court! He's everywhere"!
Cotton Pickin'& Ginnin' Festival, Rayville, La.," On the stages he held their attention and on the grounds he had'um staring"!,
Motlow College,"An intricate part of our story telling festival".
Greater Baton Rouge State Fair; "Three years in a row as a premier roving entertainer".
A Victorian Christmas, Savannah, TN. "He has become a main part of our Christmas in Savannah"; etc, etc, etc.
San Antonio Rodeo & Livestock Show, "Unbelievable. He had real cowboys and cattlemen standing at all six of his shows every day for 17 days. Who would believe that someone from Alabama that does not claim to be a cowboy could hold a crowd of the "real thing". The Cowboys of Texas!"
Bay Minette, Alabama Community Concert Series, "They all liked him so much they drove all the way across town for the after concert reception and stayed way past the designated time to be with him. He was great!"
South Carolina State Fair, "Every time we looked up, there he was. Always telling a story or singing a song!"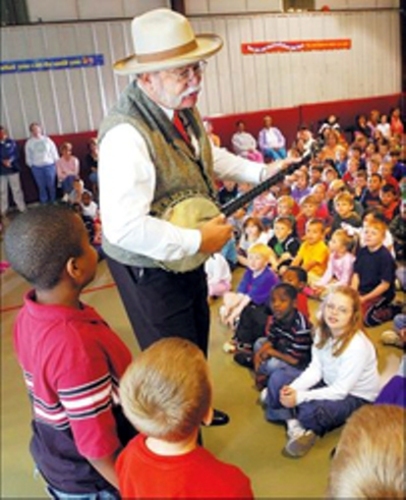 When I was a young man I told stories of places and things that I read about or heard about from other people. I was a great listener. While my father Master Sergeant John Edward Ferguson was off fighting in WWII, my mother Sarah Ruby Ferguson who was a piano player and storyteller, taught me the Folk & Patriotic songs of our country as well as sea chanties, Irish Folk songs & Gospel music. She also told me some of the best stories I have ever heard. Her father George Ruby was also a guitar player, storyteller and "serenader"....
On my father's side of the family I got to hear the adventures of my Great-Great Grandfather William J. Ferguson, a boatman, wagoner, fur trader, tannery operator & carpenter from
Trenton
,
Tennessee
. My Great Grandfather, Joseph William Ferguson was a Sergeant in the 60th
Illinois
Infantry
,
U.S.A.
during the Civil War under Col. Tolar. It was a highly decorated replacement group that fought in numerous famous battles in the South. He remained in the Army for quite some time. All my good stories about these two men came from Samuel Adam Ferguson, my Grandfather. He had been a cowboy in
Colorado
and
Texas
, a corporal in the U.S. Army during the Spanish American War, helped build the first wooden structure on
Pikes Peak
, and worked on the reconstruction of
San Francisco
after the Great Earthquake, as a carpenter. He loved to tell stories and I listened to every one I could from the time I sat upon his knee as a little boy until his death at a ripe old age. His church was his Masonic Bible and his comfort was Irish whiskey.