School and Educational Programs
General Educational Programs



All Programs geared toward Age Group and Attention Span of Venue and Curriculum. A lesson plan, study guide and reading list can be provided upon request and discussion prior to bookings......ALL STORIES WILL INCLUDE MUSIC UNLESS PRIOR ARRANGEMENTS ARE MADE.



"The Magic Reading Camera"...A young boy falls asleep while catfishing on the river and has a dream about "The Magic Reading Camera". A lesson is learned by all ages about the magic of sensitory reading, one of the methods taught by "Riverboat John" to encourage and enrich the skill and art of reading. Literary Arts, Listening skills and the use of the imagination!!!!!
"Flat Boatin' In Alabam"
"Riverboat John" tells of the people's struggle to travel by water before the days of the steamboat and on waters where steamboats could or did not go. He includes a brief history of the Tennessee River and other major rivers of Alabama, Economics and Trade, Pioneer Agriculture & Transportation.

"Mules & Elephants"
Factual stories and anecdotes about an important animal necessary for Agriculture & Transportation. "Riverboat John" tells a story or two about the History and importance of the Mule. Includes a wonderful song or two that will forever remind the audience of the importance of our friend the Mule.

"Just Call Me Lem"
Lemuel Shamus Ferguson arrived in Savannah, Georgia, at the end of the American Revolution. He had just completed 10 years servitude on an Irish Merchant ship in order to pay his family's debts. His story tells of his travels to King's Mountain searching for relatives, the Wilderness Road, the Cumberland Gap, river and wagon travels, the Mississippi Territory (before Alabama Statehood), the Creek Indian Wars, the War of 1812, General Jackson, Davy Crocket, and others.

"The Creek, The Pond & The River"
Tales of "Riverboat John" growing up near the Tennessee River. Pirates, Homemade Swords, Buried Treasure, Cave Exploring, River Rafts, Floating Down The Pinhook, Bone Valley, Monte Sano Adventures, Grappling For Catfish, etc. The life and times of a boyhood adventure or two.

"The Reel Good Old Days"
A piece of yesteryear. Barlow knives, fishing hooks, sweeping the yard, selling Cloverine salve door-to-door, Hickory Nuts, Walnuts & Blackberries, My First Banquet, Tom Dark's Drug Store, The Hardware, Variety Store, and Service Stations. Old town memories of growing up in the 40's & 50's in Huntsville, Alabama.


"The Model Airplane Story"
A true story about following instructions and listening skills.

"Fahmeeda Has Spoken"!
A true story about listening skills and what to do after listening.

"A Day In The Library With "Riverboat John"
Reading, Literature, Health & Character Education, Arts-In-Education, Music, and other curriculum combined with stories and songs. Class participation, Sing-a-longs, etc.


"A History of American River Music"
River Blues, Folk, Gospel, Spiritual, Country, Mountain, Western, etc.

"Rivers Remembered"
A formal concert by "Riverboat John", music, song and story. (See web site)

The "Riverboat John" Haybale Theatre & Traveling Storytelling School
"Riverboat John" supplies the sound, lighting and stage backdrop. The venue supplies bales of hay based on anticipated audiences. A new program every hour on-the-hour of song, story and music.

The "Riverboat John" Traveling Storytelling School
Up to 5 hours of classroom instruction on Practical Storytelling. (Ask For Outline)

Living History Programs
Naval & Sea, Celtic, African, Explorers, Pioneers, Early America, The American Revolution,New U.S.A., Fur Trade, Indian Wars, War of 1812, Civil War, Spanish American War, The Mississippi Territories, The South.

All Programs Can Be Tailor-made For any Venue. Price, availability, and performance requirements are subject to discussion and change. Block Booking & multi day programming is discounted.

Programs contain curriculum that relates to classroom study in History, Heritage, Social Studies, Economics, Music, Literature
Reading & Listening Skills, Health & Character Ed. Arts-In-Ed,
Speech, Drama, to include Morals (Guns-Substance Abuse-Right & Wrong, etc) et. al.





Character Ed, Arts-in-Ed, History-Heritage,
Reading, Social Studies, Music, Etc.
Are riddled throughout all programs
Concerts/Festivals/School, Library & Museum Educational Programs/ Business & Industrial Events
Fund Raisers/Educational Workshops/Historical, Cultural & Heritage Venues & Programs
Creative Writing and Listening


"Riverboat John"'s goal is to get the student to see how they can use their imagination and other means discussed in his classes to bring out wonderful stories.

His idea of Practical Creative Writing is explained thru the use of Oral Storytelling and the Blackboard.

His main goal is to show the student how to be a better listener. One who listens to their own self as well as others.

Using dramatic demonstrations and antics, He will show the difference between Persuading, Describing, Narrative and Expository story telling and meld it into the writing form.

Classes are all tailor made for age and current curriculum and go hand-in-hand with the Storytelling Programs (See Storytelling Page)

BECOME A MASTER LISTENER TODAY!

Living History Programs
"Riverboat John" does Living History Programs that range from The Early Americas up to the Civil War, including Plantation Era and Riverboat Era. HE DOES NOT DO CIVIL WAR PROGRAMS. His best time frame is from The American Revolution through 1860.
"Riverboat John" will at your request appear in Period Dress for Assembly, History Classes, Libraries, Museums, Theme Parks, Victorian Christmas, etc. Call today for your venue.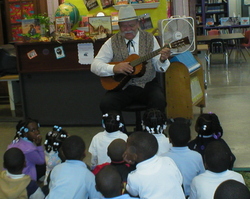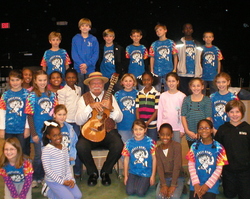 Reading and Listening Skills
Using the "Tom Sawyer" amd "Huck Finn" approach, "Riverboat John" travels back to age eight and begins with the Classics. Literature becomes attractive as the stories and songs go on. Listening skills are explained and "imaginative" reading (as "Riverboat John" calls it) comes out of hiding. Pre-K thru College and Adult all enjoy this method of creating interest and reason for reading and it's importance.
Programs For Parents and Teachers
One of the things "Riverboat John" learned is to work with Parents and Teachers. They need to know what special programs are coming to their schools and how they can capitalize on them. Because of this, "Riverboat John" holds Parenting Sessions (or will make them available) early in the morning, at noon, during the day or in the evening. Parents get a dose of what their children are getting and pick up on the key points so that when they are at home, they can not only help but participate. This makes for a better student.
Sessions usually last 30 to 45 minutes and can be tagged on to other meetings and agendas.
Teacher Workshops are available in all areas of curriculum and program. Problem areas and areas of emphasis can be put on top of the list for the workshops.
All programs are tailormade for each school.
Library Reading Programs
Summer's Coming!
"Read the Book"!
By "Riverboat John" Ferguson, Singer, Banjo & String Player & Master Story Teller
80 Lambert Circle, Blountsville, Alabama 35031
Phone: 205-466-7438 HOME 256-603-2588 CELL
email: kala@hopper.net


Each year "Riverboat John" develops a new reading program for children. Last year it was on "Using Your Imagination". This year's new program "Read the Book"! emphasizes the importance of reading and why we need to become good readers. Using his normal benchmark theme of rivers and water, "Riverboat John" opens his program with his credentials. He presents himself to the children to be no more than a boy himself who grew up on the creeks and rivers that liked to read and left home as an adult to travel and see the world. His songs and stories unfold about people that he has seen and read about, such as Tom Sawyer and Huckleberry Finn, Long John Silver, Moby Dick, Tiny Tim, Davy Crockett, Andy Jackson, Abe Lincoln, The Northwest Territories, Pirates, Rivermen, Sailors, Soldiers and a host of others; he keeps the children on the edge of their seats. Nothing interrupts their attention span as he continues with song and story.
One of the main parts of this year's program will be to explain the many ways to tell a story. See the movie, catch the play, hear the song, oral tradition story telling and reading the written word, books! What do you want to do after you have seen a good movie? Read the Book! What do you do before you go to a play or drama? Read the Book! Children get to participate by acting out a pre-written script for the story; hearing the song and singing along; hearing the story done as oral traditional storytelling; and actually reading the story. Lots of participation, fun and excitement as the story hour
progresses.
Also included in the program this year will be story writing. Why people write stories. Are the stories true or fiction? What kinds of stories can we write? How to write a book.
Where do you start? What makes a story? Sad or funny, long or short. Read the Book!
Call, write or e-mail today for booking information. Make a deal! Hook up with another library or venue in your area and get a reduced price for this valuable educational and entertaining program. Even though you may have already selected your programs for the summer, you may want to add this one on as a bonus for your children. Although it is entertaining & fun, this is not "just entertainment" or a "show", but a serious reading program designed to get the children interested in reading on a permanent basis.
E-D-U-T-A-I-N-M-E-N-T
Thanks! "Riverboat John" Ferguson