THE BIG READ- "Tom Sawyer" & "Riverboat John"
A program of songs, stories, anecdotes, antics, quips & readings based on the book Tom Sawyer by "Mark Twain"
The Adventures of "Tom Sawyer" & "Riverboat John" is an opportunity to explore the lives of three people…. The reader "Riverboat John" Ferguson, The writer "Mark Twain", and the main character "Tom Sawyer" The show is broken down into five parts:
Part One: Introduction
Opening Song Oh! Susannah! Written by Stephan Foster, Father of American Folk Music & one of "Mark Twain's" favorites.
Welcome to the audience & over-view of show.
Part Two: "Riverboat John"
Tom & Huck , A song & story written by "Riverboat John" about growing up & being a pirate, a boatman, and riding on the river when he was eight or nine or ten.
The Library, A song & story about the weekly trip to the local Carnige Library to check out another Classic book. Books like Tom Sawyer and Huckleberry Finn by "Mark Twain", Call of the Wild by Jack London, Treasure Island by Robert Louis Stevenson, Moby Dick by Herman Melville, & lots of others.
Mark Twain, a song and story adapted from tales from Granddad about the river and the Riverboat Era.
I'm Goin' Home, An original song and story by "Riverboat John" about going back home after the travels and adventures on the road & in the world.
Part Three: The book Tom Sawyer and all about "Tom Sawyer" the character.
This Classic story rests in our hands, hearts and imagination. The characters are famous and the tale is timeless. It is full of heroes and villains, suspense and humor, adventure and wonder and new ideas. From the sewn on collar, to the whitewashed fence, Huck Finn & Becky his girlfriend. The graveyard, murder, secrets oaths. Pirates, his own funeral, trials and Injun Joe. Hidden treasure, the cave, the spy and the search. Lost in darkness. Riches-Rules-Rags & Robbers. "Tom Sawyer "keeps us on the edge of our seat with laughter and humor, and all the other things that go with The Adventures of Tom Sawyer.
Part Four:
The author "Mark Twain"
Samuel Langhorne Clemons was born in 1835 when Halley's Comet came, and died in 1910 when Halley's Comet came again.
He was 41 when he first published The Adventures of Tom Sawyer.

Nine years later, he published The Adventures of Huckleberry Finn. Many people are not aware of the other Tom Sawyer books he had published. Tom Sawyer Abroad, and Tom Sawyer, Detective… Clemons not only took on the "persona" of Mark Twain, but many believe he was the real Tom Sawyer.
Part Five: Conclusion:
At age 41 I think that Clemons wrote this book for pure entertainment. I believe that as an old man on tour as a lyceum speaker he saw more meaning in it for us all. Way beyond pure entertainment. Of course many of us believe there is a little "Tom Sawyer" in all of us.
Audiences of all ages and backgrounds from Chautauqua, New York to Miami, Florida and California and back, have enjoyed the songs & stories of "Riverboat John". His ability to hold your attention span is amazing. His programs are always filled with a good mix of song & story.
New York Times, says "A true American Minstrel, full of Americana".
Chattanooga Free Press, "Tom Sawyer & Huckleberry Finn all wrapped up in one, with a banjo on his knee and river water in his veins".
The Hannibal Courier-Post, "Made himself right at home here in Hannibal, and would have fit right in with Tom & Huck & Becky".
The New Orleans Times Picayune, "Knows the river, the city, the people, music and the stories".
Some interesting parallels with this program: "Mark Twain" loved to sing and he played a parlor style G –tuned guitar. So does "Riverboat John". Both share a love for the Spirituals, Folk Songs, River Work Songs & Minstrel Show Songs. Several of these songs will be performed in the show.
Bookings:
"Riverboat John" Ferguson
Songs-Strings-Stories Lecture
80 Lambert Circle, Blountsville, AL 35031
205-466-7438 or cell 256-603-2588
Available for community concerts, theatres, K-12 school shows with study guides, colleges, library & museum lectures & after-dinner programs.
Mark Twain, guitarist, singer, and literary legend, was first exposed to music by his sister Pamilla. She supplemented the family income by teaching guitar and piano. He obtained his guitar used in 1861 (in 1835 it was $10 new) and kept it in close company until shortly before his death in 1910. He sang and played for newspaper men of the Nevada Territories, miners from California's Gold Rush days and for passengers aboard Ajax, a clipper ship bound for the Hawaiian Islands. But mostly he played for the willing women of the West. In December 1866, Mark Twain brought his Martin 2 ˝-17 guitar aboard the steamer America and sailed from San Francisco to New York City, where he would seek his fortune.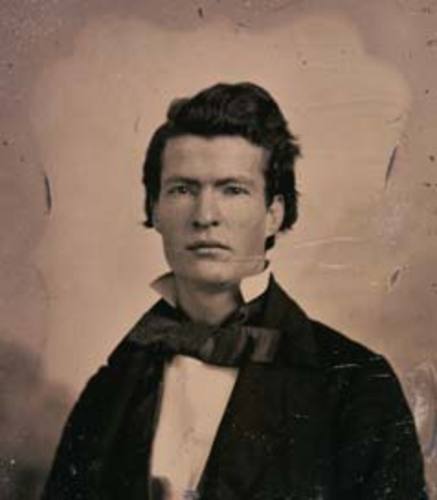 Mark Twain at age 41 when he wrote "The Adventures of Tom Sawyer"
"Mark Twain in his trade mark white suit and white hair and white mustache...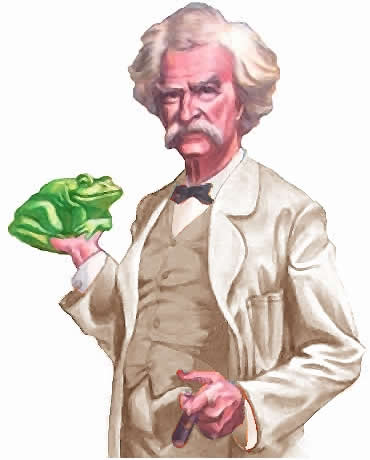 Painting the fence on Saturday Morning in Chapter Two
This is a "favorite" of The Big Read and for Community Concerts